Kumamoto Anthropology Film Society (KAFS) Session #3
熊本大学グローバル教育カレッジと文学部文化人類学研究室は、「熊本人類学映画会」 Kumamoto Anthropology Film Series(KAFS)の第3回イベントを次の通り実施します。
The Cultural Anthropology Laboratory of the Faculty of Letters along with the College of Cross-Cultural and Multidisciplinary Studies at Kumamoto University will hold the third event of the Kumamoto Anthropology Film Society (KAFS),as follows:
タイトル (Title)
Les maîtres fous (狂気の主人たち/The Mad Sisters)
(フランス語、英語字幕28分)
作者 (Director)
Jean Rouch
日時 (Date)
8月30日(火)17:30-19:30
Tuesday, August 30, 17:30~
場所(Venue)
グローバル教育カレッジ棟 1A教室
Classroom 1A in the College of Cross-Cultural and Multidisciplinary Studies
その他(Other Information)
予約不要、学内外のどなたでも参加可能です。ご興味のある方は是非ご参加ください。
There is no need to make reservations, people who are not affiliated with Kumamoto University are also welcome. We look forward to sharing good films and discussions with you!

イベントポスター(Event Flyer) 
  ①日本語    ②英語
Seminar held to help university staff improve their TOEIC scores
On August 23, 2016, a seminar was held to provide the University's administrative and technical staff with pointers to help them improve their TOEIC scores. As one of the universities selected for the government's Top Global University Project, the aim of the seminar was to promote the globalization of Kumamoto University, and to motivate the university's administrative and other staff to continue studying English and help them to further improve their language skills.
Attended by close to 30 staff members, Koji Hayakawa, who has a wealth of experience in teaching English at universities, companies and the like, gave a three-hour seminar on the topic of "Effective study methods and mindset for improving TOEIC scores". He began by talking about the importance of studying English, citing the example of top athletes competing overseas. He then gave pointers for handling the specific sections of the test, and explained the recent trends in TOEIC questions and effective training methods.
Many participants said "The seminar provided us with eye-opening and very useful information" and "I'm going to review my study methods up to this point and I'd like to take the TOEIC test again as soon as possible". Many of the participants expressed the desire for a repeat of the seminar, which was a resounding success.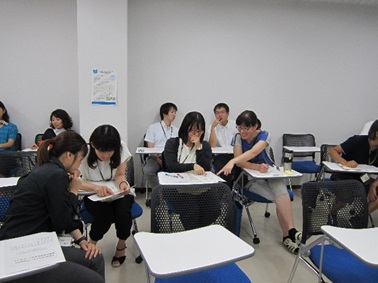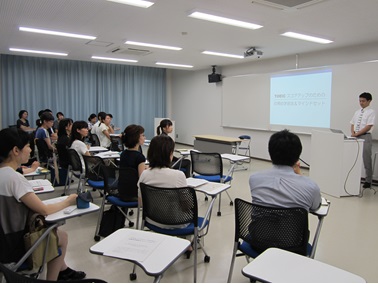 Open College Day held by Global Youth Campus
On Saturday, August 6 the Global Youth Campus Open College Day event was held at the College of Cross-Cultural and Multidisciplinary Studies.
144 students, teachers and family members from each prefecture in Kyushu as well as Yamaguchi prefecture in Honshu joined the event, which was held in order to offer a simple introduction and guidance to participants in regard to English lectures, the IELTS exam, study abroad experience and the Global Leader Course program, which will begin next year at Kumamoto University.  Participants offered comments about the event, such as "I definitely want to study under the Global Leader Course" and "This was a good opportunity for me to see how well I match with this course."
During the lunch break, the "Global Café" was opened, offering high school students the chance to speak directly with the English speaking staff and faculty of the College of Cross-Cultural and Multidisciplinary Studies, as well as peruse the University's study abroad programs and hone their interest in international education.
Many of the participants of this event expressed their interest at studying at Kumamoto University and abroad in the future.  The College of Cross-Cultural and Multidisciplinary Studies will continue to offer opportunities to high school students to experience English courses at Kumamoto University, as well as consultation about studying abroad.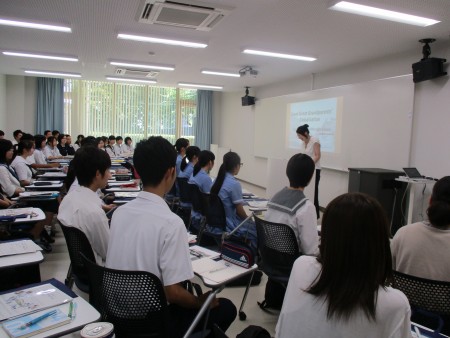 High school students experiencing a lecture in English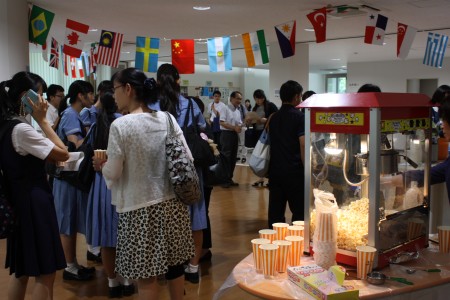 The Global Cafe