Kumamoto University 2019 Spring Program: Recruiting participants
 The Spring Program offered by the College of Cross-Cultural and Multidisciplinary Studies at Kumamoto University was created to provide international students who have an interest in studying abroad in Japan with a chance to experience life as an international student at Kumamoto University.
English Course Theme: Groundwater and Environmental Sustainability
*The English Course will be conducted entirely in English.
Dates
English Course:  Tuesday, February 26 – Thursday, March 7 2019 (10 days)
Program Participants
English Course: 80 students
Eligibility
・Participants must be undergraduate students currently enrolled at a university with which Kumamoto University has an agreement for academic or student exchange.
・English language proficiency equal to or greater than IELTS level 5.
・Participants who have been in our Summer Program or Spring Program before are excluded.
・Participants must obtain travelers insurance in their home countries prior to departing for Japan.
・We will cancel the Spring Program if the minimum of 20 participants are not gathered.
Day

Time

Content

1

 2/26

PM

Arrive in Kumamoto, have dinner with Japanese Students

2

 2/27 

AM

Campus Tour & Orientation

PM

Lectures:  "Aso Caldera"

Classroom Lectures & Welcome Party

3

 2/28

All Day

Study trip to Volcanic Mt. Aso

4

 3/1 

AM

Lectures:  "Minamata Disease" , "Amazing Water"

PM

Japanese cultural experience: Yukata Dressing & Tea Ceremony

5

 3/2

All Day

Study Trip to Minamata

6

 3/3

All Day

Free time (Optional: Home Visit with Japanese Family)

7

 3/4 

AM

Lectures:  "Japanese Politics" , "Japanese Sweets "Wagashi"

PM

Japanese cultural experience:  Wagashi Making

8

 3/5 

AM

Lectures:  "Japanese Myths and Legends",

"The Modernization of Japan"

PM

Japanese cultural experience:  traditional calligraphy

Presentations and exchange event with high school students

9

 3/6 

AM

Study Trip to Kumamoto Castle

PM

Closing ceremony and farewell party

10

 3/7

All Day

Return home
                     Kumamoto University 2019 Spring Program Flyer
Comments from Past Participants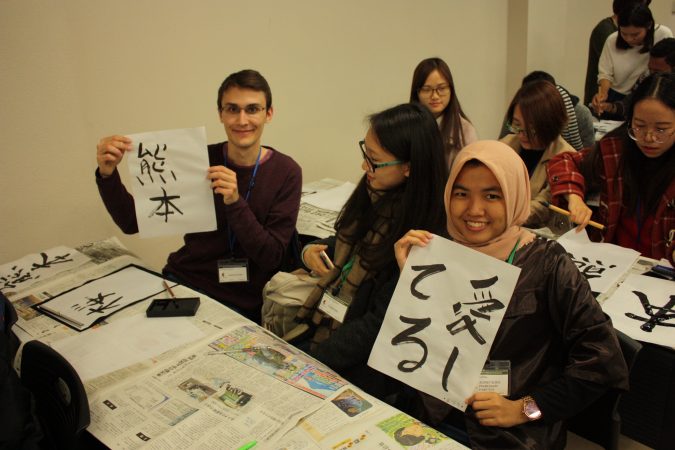 ●"I did a lot of new things and had a great experience"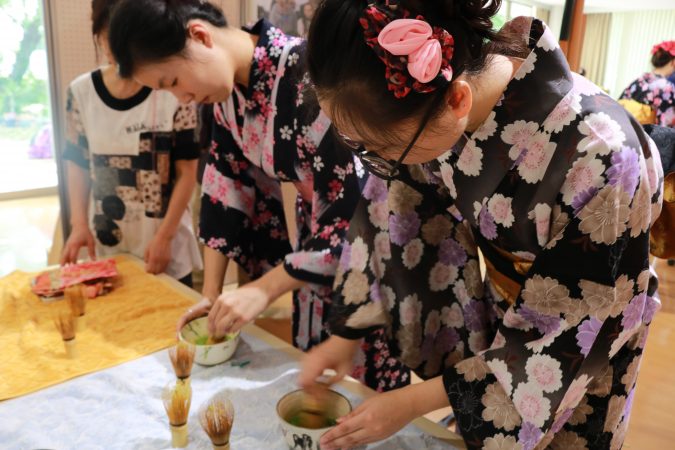 ●"I made a lot of great memories. I want to go back to Kumamoto."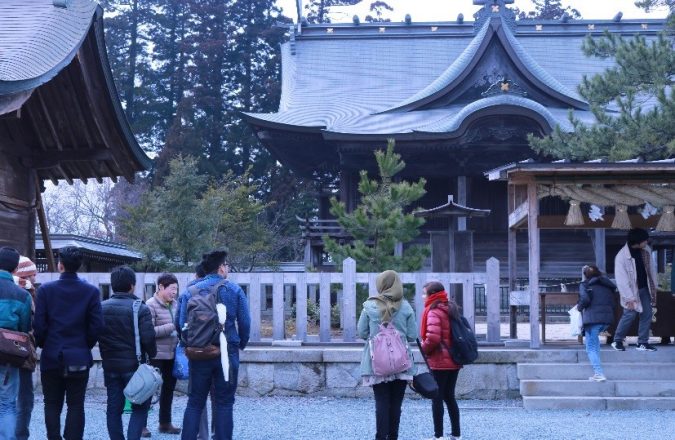 ●"I had a lot of fun! Thank you very much."
Program Fee
Participation fee (Required):  100,000 Japanese Yen
○ includes registration, class fees, accommodation, field trip fees, and breakfast.
× Does not include the cost of transportation to or from Japan, the cost of transportation within Japan, the cost of meals (other than breakfast) during the program, or bank transfer fees.

How to pay
  The Participation Fee must be paid in advance via bank transfer, in general from the home university by December 7, 2018.  Payment details will be announced after participant selection.
Scholarship
 Participants in the English Course of the Spring Program may apply for a scholarship of 80,000 Japanese Yen, provided by the Japan Student Services Organization (JASSO) . To be eligible for the scholarship, students must meet the following 3 conditions:
Only students from the following countries are eligible to apply: Malaysia, Myanmar, Philippines, Thailand, Indonesia, Vietnam, Laos, Nepal, Cambodia
Students must have a GPA greater than or equal to 2.3 or more (based on the JASSO GPA scale).
Scholarship recipients may not receive any other scholarships for this program which exceed 80,000 Japanese Yen.
* Please note that there are a limited number of scholarships available, and they will be awarded based on the applicants' GPA scores. The result will be sent to the person in charge of the partner universities.
Visa
 An entry visa to Japan is required for students from certain countries. As soon as selection results are determined, related visa documents will be sent to the responsible persons at your university. Please apply for your visa as soon as possible at the nearest Japanese Embassy or Consulate.
How to Apply
  Please direct your students to inform you of their intention to apply to our program.  The program application itself is to be done online directly by the student.

Applications are to be submitted via the online registration form available at the following link:
https://www.c3.kumamoto-u.ac.jp/app/contact/m15f4801

*Deadline November 6, 2018

 Up to 10 students from your university may apply for each course.  If more than 10 students from your university wish to apply, please contact us beforehand.  If we receive a large amount of applications, a selection will be held based on the applicants' GPA scores.
 
  It is our pleasure to have your students join our Spring Program.
We are confident that your students will enjoy their time at our university
and in Kumamoto, Japan.
Contact
College of Cross-Cultural and Multidisciplinary Studies, Kumamoto University2-40-1, Kurokami, Chuo-ku Kumamoto 860-8555 Japan
Tel: +81-96-342-2091
Fax: +81-96-342-2130
E-mail: coe@jimu.kumamoto-u.ac.jp
Japanese Language Course for Beginners
Kumamoto University will start a special Japanese Language Course for beginners which is open to the university students/faculty/researchers and their spouses. Period: October 22 to November 29