Global Leader Course: GOKOH School Program
GOKOH School Program
Absorbing the tradition and spirit of the former Fifth High School 'Gokoh'
and carrying them into the future
Aims to foster personnel who can think about local issues with a global perspective and make actively engaged efforts.
Admission Policy
1. Students who aspire to acquire the broad knowledge needed for internationalization.
2. Students who aspire to participate in international exchanges and international business.
3. Students who aspire to have a strong spirit as leaders in the international community.
4. Students who aspire to utilize their advanced expertise in the international community.
5. Students who have the desire and ability to contribute to the local community, as well as being active in the global society.
Curriculum
Popularly called 'Gokoh', the former institution of Kumamoto University advocated the spirit of
Goki Bokutotsu
(sturdiness and rugged honesty), which has been handed down to the present GOKOH School Program. The GOKOH School Program course, aims to nurture global leaders who can live robustly in the 21st century. Participants in this course will learn as students of Center for International Education, develop their abilities and acquire specialized basic skills required for global leaders during their first two years after entering the university. Before advancing to their third year, they will choose their desired department and course and will study high level of specialized subjects. In addition, they will develop qualifications and abilities so as to play an active part in the world through various experiences including study abroad and internship.
Education System
[GOKOH School Program]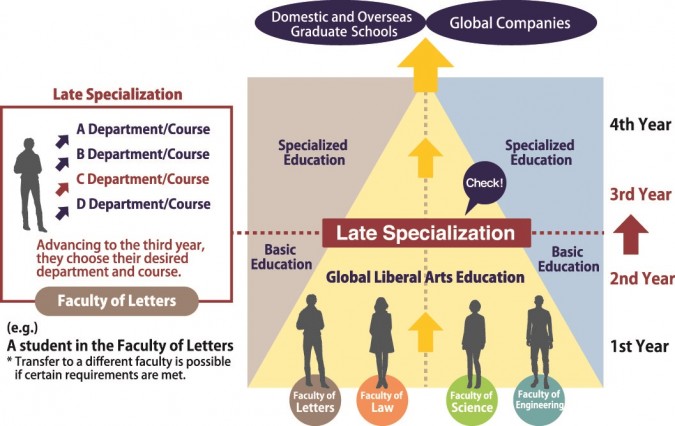 Kumamoto University plans to open its newly established 'Global Leader Course' in the Faculties of Letters, Law, Science and Engineering, in 2017. The entrance examination for this course is scheduled in August and September of 2016, conducted with the cooperation of the four faculties.
Admission Guide (PDF: 1.9MB) * Japanese version only