Global Performance of Kumamoto University
In order to play a role as a national university located in a local area yet internationally open, Kumamoto University aims to be a global university connecting communities and the world.
The global activities and performance in recent years are listed below:
■Establishment of English-based degree programs
Graduate School of Science and Technology
(International Joint Education Program for Science and Technology (IJEP))
Doctoral Course, Graduate School of Medical Sciences, Kumamoto University [Education Program]
Doctoral Course, Graduate School of Medical Sciences, Kumamoto University [Admissions]
■Promotion of the acceptance of international students
The annual number of international students accepted has been increasing year by year. In order to continuously increase the number of international students in the future, the University carries out various measures. The countries/regions, where international students studying at Kumamoto University come from, have been diversifying and the university aims at increasing the number of participants from ASEAN countries, as well as strengthening cooperative relationships with Southwest Asian and African countries.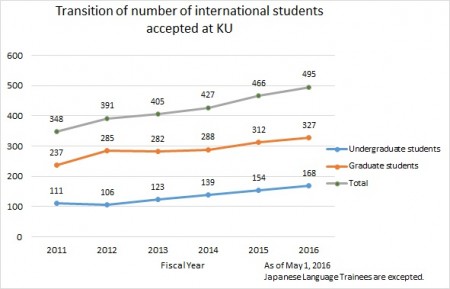 ■Expansion of international partner institutions
Kumamoto University has university/department level-exchange agreements with 209 partner universities/institutions from 44 countries/regions (as of October 1, 2016), and the University is aiming for further expansion.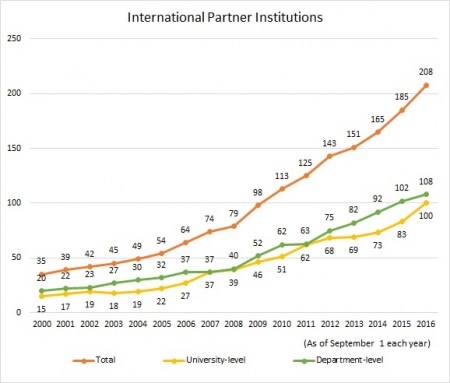 List of international exchange agreements
■Promotion of network formation with domestic universities
●Establishment of SUN/SixERs (Six National Universities Network/International Education & Research System) in April 2013
The network composes of Chiba University, Niigata University, Kanazawa University, Okayama University, Nagasaki University and Kumamoto University. It carries out joint student programs, promotion of interchange with influential allied universities overseas, and joint projects contributing to internationalization.
●Opening of a joint office for six national universities in Changchun (November 14, 2014)
http://ewww.kumamoto-u.ac.jp/en/international/topics/
■Promotion of network formation with overseas universities
●Establishment of a partnership agreement between SUN/SixERs and ASEAN University Network (22nd April 2014)
SUN/SixERs including Kumamoto University established a partnership agreement with ASEAN University Network (AUN) which top universities in Southeast Asia participate in.
■Establishment of an overseas office
Kumamoto University has overseas offices in order to develop international exchange activities. The office is involved with work related to international students, joint research by the university and overseas researchers, promotion of academic/educational interchanges and transmission of information for Kumamoto University.
http://ewww.kumamoto-u.ac.jp/en/about/offices/overseas/
■Implementation of the Kumamoto University Forum
In order to improve the international presence of Kumamoto University and the expansion of the international exchange network as well as facilitate human resources exchanges, the "Kumamoto University Forum" is held both domestically and internationally. The Forum has been held in Shanghai, China (2005), Daejeon, South Korea (2006), Surabaya, Indonesia (2008), Hanoi, Vietnam (2010), Shanghai, China (2011) and Surabaya, Indonesia (2013).  In 2009 the university held the "International University Presidents Forum" in Kumamoto, to which representatives of 25 affiliated schools from 11 countries were invited.
■Program for Promoting the Enhancement of Research Universities
In its role as an international collaborative research centers, Kumamoto University selects outstanding researchers in the 3 fields of life sciences, natural sciences and human and social sciences and allocates research administrators (URAs) to support excellent professors. The university aims at strengthening research levels by mainly focusing on international qualities, in order to promote world-leading research work as well as enhance characteristic fundamental research work. Furthermore, as a research base university, it cultivates human resources from its research foundation who are strongly intent on supporting pioneering research work and willing to take an active role in modern society from an international perspective.
What is the program for promoting the enhancement of research universities?
The program was established by the Ministry of Education, Culture, Sports, Science and Technology in the FY 2013.
The purpose of the program is to ensure that human resources for research management and activities can be secured and the level of research being carried out be augmented.  As part of the program, research environments at universities are fundamentally reformed, in order to enhance those universities conducting world-level outstanding research activities as well as improve the research level of the entire country.
■Links
The International Research Center for Medical Sciences (IRCMS)