【7/21 16:30〜】OnlineにほんごLearning Commons 「私のそだった国」presentations
留学生(りゅうがくせい)のみなさんへ

7月21日(水曜日)16:30〜18:00に、にほんごラーニングコモンズ(zoom)で、
留学生(りゅがくせい)の方(かた)たちに出身国(しゅっしんこく)の
紹介(しょうかい)をしてもらうイベントを行(おこな)います。

発表内容(はっぴょうないよう)は、食(た)べ物(もの)の話(はなし)や
教育(きょういく)の話(はなし) など、さまざまです。
日本語(にほんご)で、いろいろな国(くに)のお話(はなし)を聞(き)けますので、
ぜひみなさんも聞(き)きに来(き)てください。
グループに分(わ)かれて学生(がくせい)と交流(こうりゅう)する時間(じかん)もあります。

参加(さんか)したい方(かた)は下(した)のリンクか、
ポスターの QR コードから登録(とうろく)をお願(ねが)いします。

また、ラーニングコモンズでは日本人学生(にほんじんがくせい)と日本語(にほんご)で
会話(かいわ)することができます。
本日(ほんじつ)も、イベントと同じくZOOM で行(おこな)っていますので、
こちらへの参加(さんか)もお待(ま)ちしています。

Onlineにほんごラーニングコモンズの参加登録(さんかとうろく)は、こちらから
https://us02web.zoom.us/meeting/register/tZAvce2qqjwiHNbZ4K CvacLYFN1HFV4dzWu

7月 20 日 火 16:30 〜 18:00 にほんごグループトーク
7月 21 日 水 16:30 〜 18:00 プレゼンテーション(留学生)テーマ「私の育った国」

ご参加(さんか)をお待(ま)ちしています。
Application Information, Japanese Language Course for Beginners, Kurokami 2
2021年度前学期日本語講座黒髮②の申込みとスケジュールの案内が始まりました!
Applications for 2021 Spring semester Japanese Language Course for Beginners (JLCB)、Kurokami session 2 is now open!
This course is for Kumamoto University students/faculty/researchers or their spouses.
このコースは熊本大学の学生、教員、研究者、またその配偶者を対象としたものです。
Kurokami Campus JLCB (Spring-session 2)/日本語講座黒髮(前学期:2クール)
Tuesdays & Fridays from August 17th to September 17th 14:00-16:10
Beginner level (Kumamoto University Japanese Level: K1, for those who have taken Spring Kurokami 1 or who have learned basic Japanese before)
**All the applicants must take a mini test which will be held before the course starts. If the result was less than 80 %, course registration in consultation with the instructor is required.
Course capacity of 6 people.
* If the number of applicants is more than 6 people, the mini test result will be considered for the course registration.
Please check the details on the flyer and schedule carefully.
Application form (←Click here to apply)
Application Deadline: Friday, July  30th 5P.M.
毎週火曜・金曜 14時から16時10分 8月17日から9月17日まで 
初心者レベル (熊本大学日本語レベル: K1、日本語講座黒髮①を受講した人、または基礎的な日本語がわかる人)
※講座の開始前にある小テストを受ける必要があります。結果が80%以下の場合は、受講について講座の講師との相談が必要です。
最大受講者数6人まで 
※申込みが6人を超える場合は、小テストの結果を考慮させていただきます。
詳細については、チラシとスケジュールをよく確認してください。
申込フォーム (←ここをクリックして申し込んでください)
申込み締め切り:7月30日(金)17時
Inquiries/問合せ先
International Student Office  国際教育課 (Kurokami North Campus)
         EMAIL: gji-ryugaku@jimu.kumamoto-u.ac.jp TEL:096-342-2138
The Kumamoto Student Exchanges Promotion Conference held Welcome Party (Spring)
 On Sunday June 20th, 2021 Welcome Party (Spring) for international students in Kumamoto Prefecture was held online. The party was hosted by The Kumamoto Student Exchanges Promotion Conference which strives to familiarize newly arrived international students with Kumamoto and is carrying out various activities throughout the year.
 It was held remotely this year, and over 80 international and Japanese university students and staff members joined the party. Five international students gave speech as representatives of their universities. The students enjoyed fun games that the student supporters prepared, and also there was time for free interaction.
 Kumamon appeared as a special guest, and performed dance and instructed how to properly wash hands and gargle. The participants seemed to have enjoyed them.
 Participants offered comments about the event, such as "The event was held remotely but today was better than face-to-face communication" and "If there is another event like this, I will willingly participate again."
 The Kumamoto Student Exchanges Promotion Conference will continue to provide International students, Japanese students and local residents with more opportunities for them to experience global interaction in the future.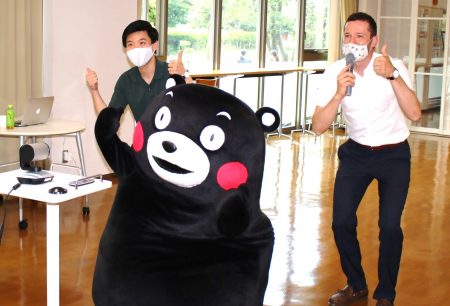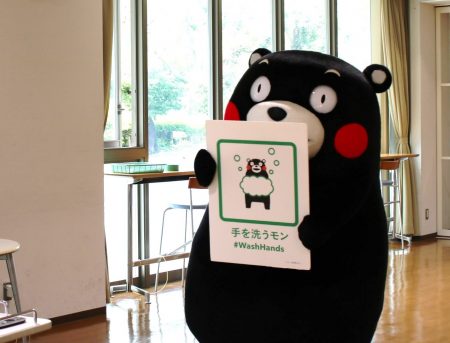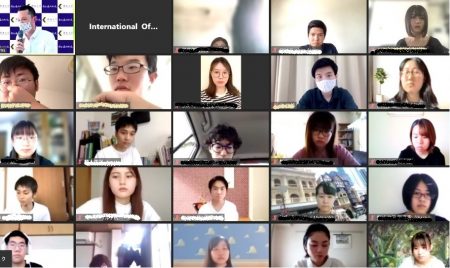 ©2010kumamoto pref. kumamon
         Date taken: 20/06/2021