Open College Day held by Global Youth Campus
On Saturday, August 6 the Global Youth Campus Open College Day event was held at the College of Cross-Cultural and Multidisciplinary Studies.
144 students, teachers and family members from each prefecture in Kyushu as well as Yamaguchi prefecture in Honshu joined the event, which was held in order to offer a simple introduction and guidance to participants in regard to English lectures, the IELTS exam, study abroad experience and the Global Leader Course program, which will begin next year at Kumamoto University.  Participants offered comments about the event, such as "I definitely want to study under the Global Leader Course" and "This was a good opportunity for me to see how well I match with this course."
During the lunch break, the "Global Café" was opened, offering high school students the chance to speak directly with the English speaking staff and faculty of the College of Cross-Cultural and Multidisciplinary Studies, as well as peruse the University's study abroad programs and hone their interest in international education.
Many of the participants of this event expressed their interest at studying at Kumamoto University and abroad in the future.  The College of Cross-Cultural and Multidisciplinary Studies will continue to offer opportunities to high school students to experience English courses at Kumamoto University, as well as consultation about studying abroad.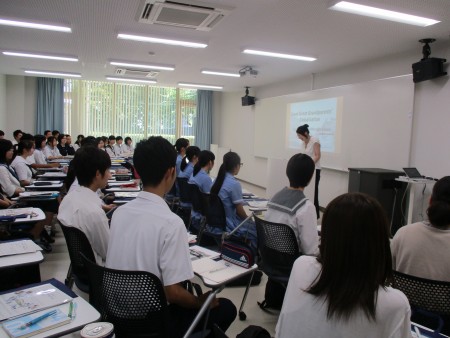 High school students experiencing a lecture in English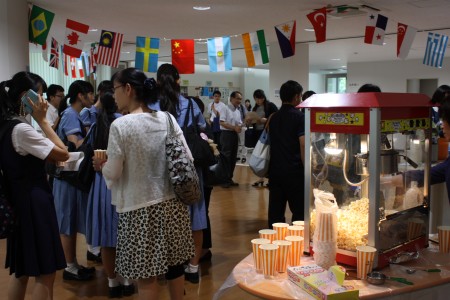 The Global Cafe