NEW Japanese Language Course for Beginner
College of Cross-Cultural and Multidisciplinary Studies will launch a new special Japanese Language Course for Beginners from February. Any international student and researcher who belong to Kumamoto University and have not learned Japanese can join this course. And this course is also open to their spouses.
Period: February 14 to March 14, 2018
Day and Time: Mondays, Wednesdays and Fridays 10:00AM~12:00PM
                           *No class on March 2nd, Friday.
Place: Classroom 3B on the 3rd floor of the General Education Building (Kurokami North Campus)
Eligibility: Those who satisfy all the following conditions.
  ● Have not learned Japanese before and understand basic English.
  ● Are Kumamoto University Student/Faculty/Researcher and/or their spouses.
  ● Can attend all 12 classes.
Fixed Number: up to 10 people
Fee: FREE (Textbooks (around 2,000 yen) must be purchased by participants)
Level: Beginner
Application Deadline: February 7 (Wed.), 2018
How to Apply: Download the application form and  submit the form by email to glc@jimu.kumamoto-u.ac.jp
Contact: College of Cross-Cultural and Multidisciplinary Studies
                 TEL:096-342-2091     Email: glc@jimu.kumamoto-u.ac.jp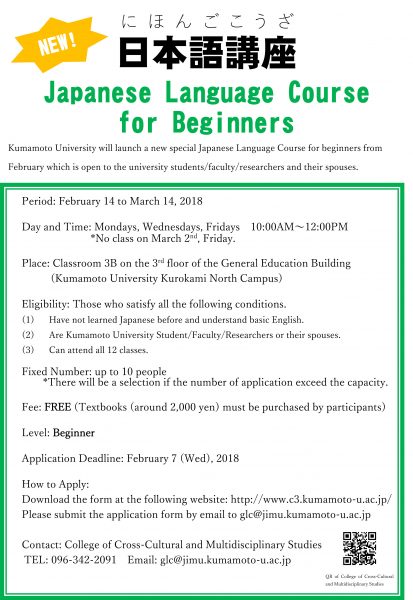 Japanese Language Course poster